Take Advantage of Electric Linear Actuators
Product Announcement from LINAK U.S. Inc.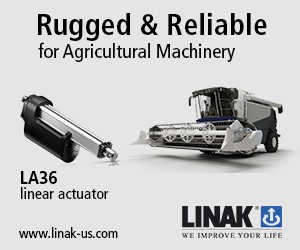 Farming is hard work and agricultural equipment must perform efficiently under extreme conditions. Actuator systems in mobile agricultural machinery have to be tough enough to withstand both weather, bumps and exposure to all sorts of corrosive fertilizers.

At the same time modern day farming has in many ways become a precision operation. Electric actuators must be delicate enough to provide very accurate control for many applications such as efficiently spreading the precise amount of material such as fertilizer and seed.

Any TECHLINE® electric actuator solution will fulfill both these demands and help improve your agricultural motion control application to maximum productivity and comfort.
---