AQUILINE foot switch
Featured Product from Linemaster Switch Corporation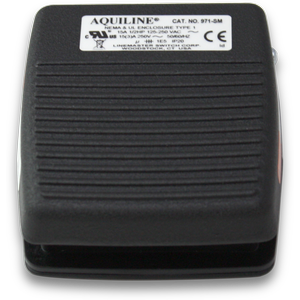 Enclosure
NEMA Type 1 • UL ENCLOSURE Type 1 • EN 60529 Degree of Protection • IP20
Purpose
versatile compact design
Features & Benefits
Maximum versatility, total performance
Non-skid base pad
2 holes provided for rigid mounting to Floor or equipment
Twin model has Electrical Interlock feature
The leading global provider of medical and industrial foot controls
Find the switch that's right for you:
Linemaster gives you a competitive edge.
We are the only foot control company in the world to hold FDA 510(k) Clearance on a wireless foot switch. Whether you need a standard foot switch made at the highest quality or a custom foot switch engineered to meet your demanding specifications, Linemaster is the number one source for medical grade foot controls. Highly engineered foot controls, FDA-cleared capabilities, innovative and flexible design: it is by no mistake that Linemaster is the leading foot switch manufacturer in the world. We reached this status by focusing solely on what we do best: foot controls.
WHY A LINEMASTER MEDICAL-GRADE FOOT CONTROL IS BETTER
A Linemaster foot control is designed and manufactured with medical applications in mind. Die-hard, engineered robustness is at the heart of every foot control, but we do not overlook aesthetics and ergonomics. Stability does not come just from weight or immobility. Linemaster's products are specifically engineered to stay in place during use, yet they are light enough to respond to a softer touch and be easily repositioned to an optimal location for the user. Features like a toe loop holster can be incorporated into the design to allow the user to move the foot control with their foot thereby keeping hands free and sterile. Linemaster merges the absolute best combination of fit, form, and function with aesthetically pleasing and complimentary industrial design on all of our medical grade foot controls.
A Linemaster foot switch is not only a beautiful extension of the technology it controls, but also of the medical professional who operates it. A foot control is the "user interface" of its corresponding equipment. The equipment connected to the foot control may be superior, but if the user interface (foot control) is not of equal or greater quality, the user experience will not be positive. User interfaces must be of the highest quality and technology to make equipment perform at top levels. This is where Linemaster shines.