Circular Recorder CR87 Series/CR87B Temp. Recorder
Product Announcement from Linseis Inc.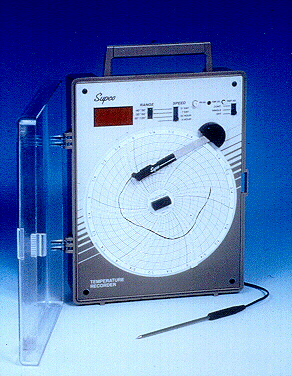 CR87B Temperature Recorder
Remote Reading, With Programmable
Speed and Temperature Ranges
Designed specifically for Refrigerator, Freezer, and Environmental Temperature Measurement
The Supco CR87B Temperature Recorder with remote sensor employs advanced microcontroller design that enables this versatile instrument to accurately measure and record temperatures in air, gas liquids,powders, solids, and semi-solids. Recordings can be made from any distance up to 100 feet away by using an optional long length wire. Two selector switches located on the face panel allow for the recording of 3 different temperature ranges at 4 different recording speeds.
Features
*Advanced microcontroller design
*Large LED digital display shows sensor temperature
*Front panel selectable - All controls are located on front panel for fast and easy setup
*3 temperature ranges
*4 recording speeds
*Remote reading 4"long submersible stainless steel sensor with 15'long sensor wire
*Single or continuous chart rotation
*Standard adapter for 120 VAC operation (220 VAC optional)
*Battery backup assures normal operation during power interuptions
*12 Volt operation - Allows use in vehicular or marine operations
*Furnished complete with 2 cartridge pens and 60 (6"diameter) assorted charts
*Convenient fold down carrying handle
*Snap-on extra support legs
*Free standing or wall mounted (using existing keyhole slots located on back of the case)
*Durable polycarbonate case
*Weather proof NEMA type 4X (CSA type 4) case optional
---