DSC PT10 Differential Scanning Calorimeter
Product Announcement from Linseis Inc.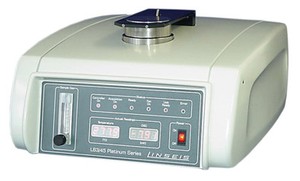 Features
Temperature range -150°C up to +700°C
Economy line, very attractive price
Forced air cooling standard
Low temperature model with LN2 cooling and with Intercooler
Description
The differential scanning calorimeter DSC - PT10 is a well proven DSC system with a very interesting price. It is a highly precise instrument and the principle of operation is based on heat flux between the sample and the reference. The heat flux is measured while the temperature is changing. The sensors that are used are highest precision PT100 sensors, which are able to directly measure a changing resistance. The used PT100 has a very high sensitivity and can be calibrated very accurate.
---