HP-TG High Pressure Thermal Analyzer
Product Announcement from Linseis Inc.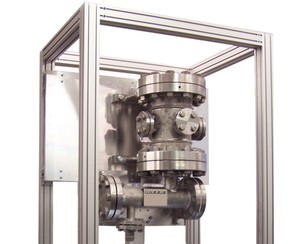 High Pressure HP-TG (optional HP TG-DSC)
Thermal Analyzer up to 50/150 bar
High Pressure TG (HP-TG), optional high pressure TG-DSC Analyzer)
The High Pressure TGA or High Pressure TG-DSC (simultaneous thermal analysis) delivers unsurpassed performance. The system can be used to determine simultaneous changes of mass (TG) and caloric reactions (HDSC) under defined atmosphere and pressure (up to 50/150 bar) in the temperature range RT...1100/1400/1800°C.

This instrument is worldwide the only available high pressure TG-DSC.
Pyrolysis Studies
Gasification of Coal and Biomass
CO2 sequestration
Testing of Getter Materials (O2, H2, etc.)
Metal reduction/oxidation Studies
---