L75 PT Quattro (DIL) Vertical Dilatometer
Product Announcement from Linseis Inc.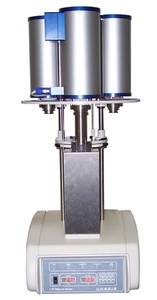 Features
4 measuring systems operate simultaneously
or 3 differential measurements using Standard Reference Material (SRM)
Temperature range RT up to 1000°C
Quartz glass measuring systems
ISA bus controller
MS Windows 32 Bit Software running in Microsoft ?evironment.
This dilatometer is a very unique instrument, which was developed for customers in the ceramics automotive industry.

These customers have to make a lot of quality control measurements in order to ensure ISO9000 standards. Especially companies manufacturing catalytic converter base ceramics for car exhaust systems are very interested.
The Quattro Dilatometer is built up with four separate dilatometer measuring sensors, which can measure simultaneously either four separate samples at one time, or three separate samples against a NIST reference.

That means, the productivity of the Quattro Dilatometer is three times as high, if compared to the normally used dual push rod dilatometers. With a dual push rod dilatometer only one sample can be measured against the standard at each time.

There is another feature included in this Quattro Dilatometer, which is called an automatic furnace lift mechanism. This feature automatically lifts the furnace at the end of each measurement without any operator interaction.

This way the measuring system is already cool when the operator comes to change the samples. This again increases the productivity of the system.

Another interesting part of this system is the possibility to include a closed circuit water cooler L75/WCU. Using this closed loop water cooler, there is no need to waste cooling water from the water outlet.
The water cooling unit has the capacity to handle up to 8 furnaces for water cooling.

The Quattro Dilatometer uses a newly developed amplifier with automatic zero setting for all four samples. Also there is a unique system included with a "manual push rod speed release?for each sample. With this feature all four samples can easily be changed and seated correctly for high accuracy measurements.

The 32 bit software was further developed to be able to program the parameters for four samples on one screen. For each sample different sample length, file name etc can be stored, and are available for later evaluation.

The temperature programming is done through a extensive program part, for several stages, dwell times, heat up speeds etc. A software macro is supplied with automatic evaluation, to ensure that ready measuring data are available without time delay.

We are proud to say that as far as we know Linseis is the only supplier worldwide, that can offer this highly specialized dilatometer.
Download L75 PT Quattro brochure.
---