Linseis Simultaneous Thermal Analyzer
Product Announcement from Linseis Inc.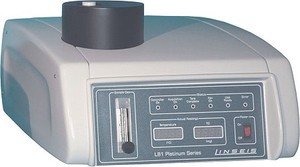 The LINSEIS STA PT1000 (simultaneous thermal analysis) can be used to determine simultaneous changes of mass (TG) and caloric reactions (HDSC) of a sample in the temperature range RT to 1000°C.
The unique characteristics of this product are highest precision; resolution and long term drift stability.
Features:
Top Loading sub microgram balance
Temperature range RT up to 1000°C
Exchangeable measuring systems TG, TG/DTA and TG/DSC
Prepared for automatic sample handler
FTIR and MS coupling is already prepared
Specifications:
System: STA - PT1000
Temperature Range: RT - 1000°C
Heating Rate; 100K/min
Cooling Rate: 1000-100°C 15 min
Atmosphere: Inert, Oxid., Red.
Balance
Measuring Range: 1, 5, … 10g
Resolution: 0.5µg
RMS Noise: <1µg
HDSC
Resolution: 0.3, 0.4, 1µW**
RMS Noise: 4, 6, 17.5µW**
Thermocouples: E, K, S, B
DTA
DTA Sensitivity: 0.05µV
Coupling: MS/FTIR
* depends on Sensor
Please click on the links to the right for more information or contact us today!
---