PHE Low Cost Ink Jet Recorders
Product Announcement from Linseis Inc.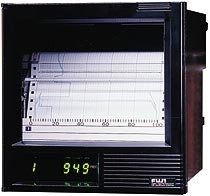 The PHE offers low-cost inkjet recording in one and two channel models. Continuous analog trending on the same axis with no phase shift.
The PHE has many digital printing capabilities such as periodic data, scale line, alarm condition, thermocouple burnout, and parameter printing.
Features:
Inkjet Printing Technology Without Physical Contact with the Paper

Eliminates mechanical wear and provides crisp, color recordings

Low-Cost

Meets your budgetary demands

Available in One- or Two-Channel Continuous Trace

More capabilities your application demands

Continuous Analog Trending on the Same Axis

Without the phase shift syndrome exhibited by conventional pen recorders

Many Digital Printing Capabilities

Periodic data, scale line, alarm condition, burnout, and parameter printing

Built with Polymer Plastic Mold Technology

The recorder is lightweight and durable

The PHE Offers Many of the Features Found in Higher-Priced Instruments

You get more recorder for your dollar

Three-Year Warranty

Protects you from manufacturing defects
Please click on the links to the right for more information or contact us today!
---