For Refined & Alternative Fuels, Lube Oils & LPG
Product Announcement from Liquid Controls Group; a Unit of IDEX Corporation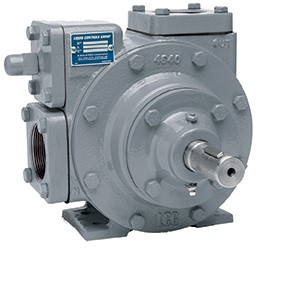 Positive Displacement Pumps - Truck Mounted Applications Pumps for Refined Fuels, Alternative Fuels, Lube Oils and LPG
Materials of Construction
Includes:

Ductile Iron Case (Z-series, PZ-series)
Cast Iron Case (PT-series)
Ductile Iron Flanges (Z-series, PZ-series)
Cast Iron Flanges (PT-series)
Ductile Iron Rotor
Steel Shaft
Advanced Polymer Vanes
Seal Choices: Buna or Viton
Design Features
Coro-Vane® Truck Pumps
The Z-Series Coro-Vane® truck pumps are specifically designed to perform in such severe operating conditions as high differential pressure, pump overspeeding, poor suction conditions and heavy thrust loads associated with a power take-off (PTO) drive system.
PZ-Series Coro-Vane® Petroleum Pumps
The PZ-Series Coro-Vane® Petroleum pumps are a positive displacement vane design. They produce a maximum differential pressure of 125 psig (8.6 bar) and a maximum working pressure of 200 psi (13.8 bar). Corken manufactures two sizes of PZ-Series Coro-Vane® pumps with a capacity up to 160 gpm (605 L/min).
The PT-Series pumps are a special type of rotary positive displacement pump, known as a sliding vane pump. The sliding vane pump has many of the positive displacement advantages of the gear pump, plus the ability to compensate for wear, and operate at a lower noise level. The sliding vane pump consists of a rotor turning inside a cam that is machined eccentrically in relation to the rotor. As the rotor turns, the liquid that is trapped between the rotor, cam and vanes is displaced. The PT-Series pumps are made with vanes
produced from advanced polymers which exhibit extremely low coefficients of friction. The self adjusting vanes compensate for wear and help extend the life of the pump.
From its start in 1956, Liquid Controls, a unit of IDEX Corporation (NYSE:IEX), has been dedicated to providing high quality flow meters and accessories for accurate liquid measurement in both custody transfer and process control applications.
Continuously branching out from the original military aircraft fueling requirement which gave us our start, we now serve a wide variety of industries.
Our manufacturing team is made of the most highly skilled craftspeople in the region, all working together each day to assure that personal care goes into each task that makes up an LC product.
We rely on a strong combination of in-house engineered designs and a network of strategically located factory authorized full service distributors to ensure that our customers around the world are supported with technology tailored to each industry's particular requirements.
Planned obsolescence has no part in our philosophy, and we at Liquid Controls are proud that our products, correctly installed and maintained, will provide years of dependable service.
Markets Served:
The petroleum industry is comprised of three main markets. Liquid Controls focuses on the midstream and downstream markets which includes the transportation, transfer, storage and marketing of refined fuels, mainly gasoline, diesel and heating oil. The upstream petroleum market focuses on the extraction, movement and refining of crude oil. The crude oil is moved to the refineries primarily through a pipeline network. Faure Herman provides the flow metering solutions best suited for this market.
Whether the application is for a bulk plant or a tank truck, Liquid Controls provides a complete line of Positive Displacement Flow Meters, Turbine Flow Meters, Terminal Automation, Mass Meters, LectroCount electronic registers, and all of the accessories necessary for the safe and accurate measurement for the custody transfer of refined fuels.
Liquified Petroleum Gas (LPG) is used for heating, motor fuel, industrial applications and in agriculture. LPG is a gas at atmospheric pressure and temperature but is easily liquified. In a liquid state, LPG is easy to transport and store which significantly increases its commercial value. Recent developments have increased the interest in LPG for motor fuel as an alternative fuel.
Liquid Controls provides solutions for metering and pumping LPG in stationary and mobile applications. From bobtails to bulk plantd the MA-Series and MSA-series meters have provided safe and accurate measurement for custody transfer. The Z-series pumps from Corken provide the perfect complimentary product for a complete movement, measurement and management solution.
Liquid Controls flow meters are found in a variety of applications in the aviation industry. Since our first meter supplied to the US Airforce in 1956, our products have been found fueling ground support equipment, on hydrant carts and refuelers for underwing or overwing fueling, and at the loading racks loading the fuel onto the refuelers.
The Liquid Controls positive displacement flow meters provide measurement of Avgas and Jet Fuel up to 1200 gallons per minute assuring efficient and accurate fueling. Recent product enhancements include electronic registration and data capture utilizing the LectroCount LCR. The advent of electronic registration enables the user to capture and communicate transactional data while ensuring safety by intelocking to valves to prevent accidental overfills. Additional features allow for measurement and recording in volume or pounds.
There is increasing public awareness of the need to reduce the consumption of non-renewable petroleum fuels as they become more scarce, more costly, and more at risk of supply disruption. The easiest and quickest way to reduce consumption of non-renewable fuels is through the broader usage of "alternative" fuels. Alternative fuels are those fuel mixtures that use some percentage of domestic "renewable" hydrocarbon: ethanol, vegetable oil derivative, or other renewable hydrocarbon product. Liquid Controls provides application specific metering solutions for these alternative fuels.
Liquid Controls products have been successfully applied in biodiesel and ethanol production, transportation and blending for many years . Whether you are metering B2 or B100, E10 or pure ethanol, or any blend in between, Liquid Controls can provide the safe and accurate metering solution.
In 2010, the EPA enacted the On-Highway Emission Regulations. These new environmental standards, require most major diesel engine manufacturers to incorporate Selective Catalytic Reduction (SCR) exhaust systems that significantly reduce nitrogen oxide (NOx) emissions. An integral phase of the SCR system includes an injection of Diesel Exhaust Fluid (DEF) into the exhaust. Experts estimate DEF usage will equal 2% of the vehicle's fuel consumption.

Soon, DEF will be dispensed at filling stations across the country. To deliver and distribute this valuable new product, dependable and accurate metering is required. Liquid Controls has the ideal DEF metering solution—Sponsler turbine meters. Sponsler turbine meters are crafted for precision, manufactured for durability, and ready for you and your growing business.
Liquid Controls Sponsler cryogenic measurement systems are specifically designed for the transportation, loading, and delivery of liquid nitrogen, carbon dioxide, oxygen, helium, and hydrogen. The cornerstone of our cryogenic measurement systems is the Sponsler precision turbine flowmeter which is proven to thrive in the harsh conditions of the cryogenic industry. Our systems provide a variety of transactional, metrological, security, and maintenance options.
Liquid Controls Sponsler cryogenic measurement systems are designed and certified to meet or exceed the requirements stated in NIST Handbook 44 as well as OIML R81, OIML R117-1, and MID.
The industrial market covers a wide range of applications including:
Sweetners
Water
Solvents
Acids
Caustics
Paints and Varnishes
Chemicals
Food and Beverages
Fertilizers and Herbicides
Bitumen / Asphalt
Printing Ink
Gasses
Each step within these processes requires movement and measurement technologies to gain efficiencies. Liquid Controls provides Positive Displacement, Turbine, Electromagnetic and Coriolis Mass meters specifically designed to fit these applications.
Mechanical Registers, Printers, Presets and TVCs
combine to provied the safe, accurate, and efficient transfer of liquids and gases
---