The Ultimate in Flow Measurement Accuracy
Product Announcement from Liquid Controls Group; a Unit of IDEX Corporation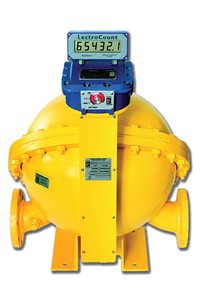 MS, MSAA, MSA, MSB and MSC Steel Case Meters
Design Features:
Liquid Controls steel-case MS-Series rotary motion positive displacement (PD) meters offer the ultimate in flow measurement accuracy for bulk custody transfer of petroleum products, aviation fuels, LPG, crude oil, petrochemicals, and a broad range of industrial liquids. MS-Series meters incorporate a unique design, presenting minimal intrusion in a flowing stream of liquid, as well as minimal pressure drop through the meter.

Liquid Controls MS-Series meters consist of an outer spherical steel-case shell with flanged inlet and outlet ports. The shell houses a traditional LC metering element that employs three rotating and synchronized rotors. These rotors accurately segment flow into a precise volume of liquid for each revolution, with no metal-to-metal contact inside the measuring chamber. Hydraulic sealing between the rotors and the measuring chamber wall is accomplished by a stationary boundary layer of liquid—not by the wiping action of mechanical parts—thereby ensuring sustained accuracy, long service life with minimal wear, and low pressure drop suitable for operation on gravity low or pump pressure.

All MS-Series spherical shells are constructed of steel or stainless steel. Epoxy coated versions are available for aviation applications. Metering elements are available in metallurgies and seal materials suitable for a wide range of petroleum, petrochemical, and industrial applications.
Materials of Construction:
Meter housing:
Steel or stainless steel (epoxy coated steel available for aviation and other
applications)
Meter element and rotors:
Cast aluminum (other metalurgies available including cast iron and stainless steel)
Internal components:
Aluminum, Ni-Resist, stainless steel, iron
Seal materials
Buna-N, Viton®, PTFE
Bearings
Carbon, PTFE, Ni-Resist
Liquid Controls MS-Series meters meet NTEP (NIST Handbook 44) and International Weights and Measures accuracy requirements as well as U.S. Military specifications.
Terminal and Bulk Plant Application Brochure
MS-Series Meter Installation and Operation Manual
Engineering Documents
Load Rack Application Brochure
Terminal Product Overview
MS-Series Specification Sheet
From its start in 1956, Liquid Controls, a unit of IDEX Corporation (NYSE:IEX), has been dedicated to providing high quality flow meters and accessories for accurate liquid measurement in both custody transfer and process control applications.
Continuously branching out from the original military aircraft fueling requirement which gave us our start, we now serve a wide variety of industries.
Our manufacturing team is made of the most highly skilled craftspeople in the region, all working together each day to assure that personal care goes into each task that makes up an LC product.
We rely on a strong combination of in-house engineered designs and a network of strategically located factory authorized full service distributors to ensure that our customers around the world are supported with technology tailored to each industry's particular requirements.
Planned obsolescence has no part in our philosophy, and we at Liquid Controls are proud that our products, correctly installed and maintained, will provide years of dependable service.
Products:
Meters provide exceptionally accurate service when using Liquid Controls' unique positive displacement metering principle, even under variable operating conditions (changes in temperature, pressure and viscosity). Provides the energy efficient and functional performance desired from an economical volumetric measuring instrument. Available with traditional mechanical seal or glandless magnetic driven pulse output device. A wide range of accessories are available to meet almost every metering need.
LectroCount® is Liquid Controls' series of electronic registers that replaces the mechanical register, calibration gears and/ or adjuster mechanism traditionally used on many flow meters. The LectroCount® series are Weights & Measures (custody transfer) approved advanced microprocessor based electronic register, presetting and printing control systems. LectroCount® is designed to meet - even adapt to - your flow meter and process control instrumentation requirements. Units are design to NEMA-4x non-incendive Class 1, Division 2, Group C & D. LectroCount® accepts pulse input from most flow meters and includes RS232/485 communications capability. The LCR-II is also available in a design for Class 1, Division 1 environments.
The DMS i1000 In-Cab Data Management System is a flexible, industry specific mobile computing platform. The DMS i1000 provides users with the ability to connect to up to three LectroCount® registers, control them, capture and store transaction data and combine that information with customer data to print application specific tickets. All transaction data is stored and transferred to the office using a USB memory stick. There are several software applications that can operate on a DMS i1000, each with functionality specific to the unique needs of different industries.
Real-time location and delivery tracking for LPG and Refined Fuels Delivery
Liquid Controls i-Meter is a simple, plug-and-play vehicle-tracking tool designed specifically for refined fuels and LPG delivery. iMeter provides a detailed, real-time picture of your delivery vehicles' movements and delivery activity. As each workday progresses, the i-Meter online dashboard plots a visual, sequential graphic trail of delivery routes and completed deliveries across your computer screen.The i-Meter online dashboard not only collects delivery data, it compiles that data into detailed vehicle, driver, and branch performance reports.
The LCMag family of electromagnetic flow meters offers the best solution for measuring the flow of electrically conductive liquids (5µS/cm minimum). The sensor consists of a stainless steel pipe section internally lined with insulating material. PTFE, Polypropylene and Ebonite (hard rubber) liners are available. The two electrodes are positioned opposite each other on the internal surface of the pipe. The coils which generate the magnetic field are placed outside the pipe. The complete sensor has an external NEMA 6-6P (IP67/68) protection rating which guarantees the integrity of the magnetic circuit and protects the instrument against the external environment. The choice of materials in contact with the fluid (lining, electrodes, etc.) depends on the temperature, the chemical aggressiveness of the liquid and the degree of abrasion of the liquid.
Positive Displacement Meter Accessories
Electronic and Mechanical Accessories
Sponsler Precision Turbine Flow Meters
Suitable for Liquid or Gas Measurement
Liquid Controls' CIM100 is an all-in-one metering device that provides high accuracy at a low cost. The compact design and ease of installation makes the CIM100 an ideal solution for non-custody transfer of LPG, petroleum products and water.
Positive Displacement Pumps - Truck Mounted Applications Pumps for Refined Fuels, Alternative Fuels, Lube Oils and LPG
Toptech MultiLoad II & Krohne OPTIMASS Loading and Unloading Solutions
Mechanical Registers, Printers, Presets and TVCs
"When accuracy counts"
Liquid Controls
Our extensive offering of
Precision Flow Meters
Electronic Registers and
Pumps
combine to provied the safe, accurate, and efficient transfer of liquids and gases
---