2 or 3 Pole Sealed Distribution Box for MIDI Fuses
Featured Product from Littelfuse, Inc.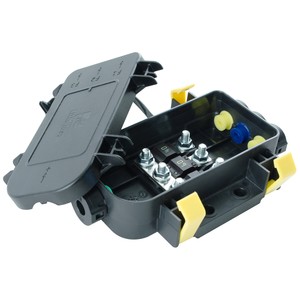 The MDB series is an internally bussed, water-proof and dust-proof fuse holder developed for high current loads, and harsh conditions, and is well-suited for near-the-battery applications. It can be configured with 2 or 3 MIDI® fuses and mounted in exposed locations to fit your design. The MDB series fuseholder includes the cover seal and M5 thread bolts for a fuse installation. Cable seals (grommets) are optional and fuses are sold separately.Features and Benefits
Waterproof and dust-proof - can be mounted just about anywhere that suits your application
Designed for high current loads and harsh conditions making it excellent for near-the-battery applications
Can be configured with 2 or 3 MIDI® fuses
M5 threaded bolts and cover seal included; cable seals optional
Second generation MDB shown
Discover the features and benefits of the MDB Series
About Littelfuse
Founded in 1927, Littelfuse is the world leader in circuit protection with growing global platforms in power control and sensing. The company serves customers in the electronics, automotive and industrial markets with technologies including fuses, semiconductors, polymers, ceramics, relays and sensors. Littelfuse has over 10,000 employees in more than 40 locations throughout the Americas, Europe and Asia. For more information, please visit the Littelfuse website: Littelfuse.com.