3kA 8/20 Surge Rating Mini Gas Plasma Arresters
Featured Product from Littelfuse, Inc.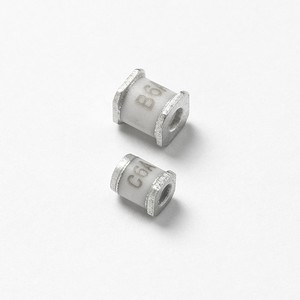 Littelfuse CG6 series GDT is a miniature surface-mount device with a 3kA 8/20 surge rating. This ITU-T K.12 Class 1, Type 1 GDT provides protection against fast rising transients typically caused by nearby lightning events. Its low insertion loss and thus low off-state capacitance makes it compatible with high bandwidth applications up to the GHz RF range. This GDT's crow barring characteristic protects sensitive ICs from surges as defined in ITU K.20/21/45 Basic and Enhanced Recommendations, GR-1089-CORE first level lightning Port Type 1, 3, and 5, and IEC 61000-4-5 2nd edition Level 5 and below. It is hermetically sealed using non-radioactive materials and is thus environmentally safe. Its 3.5mm diameter size makes it the world's smallest two-electrode single chamber GDT available.
Features:
Up to 3kA Surge Capability in Minimal Footprint
Ultra-low capacitance (< 0.3 pF)
Surface mount form factor with square terminals
Applications:
G.Fast Modems
Cable Modems
MoCA (Multimedia over Coax Alliance)
EMTA (Embedded Multimedia Terminal Adapter)
RF Connectors
xDSL
Set Top Boxes
RJ 45 Connectors
Littelfuse products are vital components in virtually every market that uses electrical energy, from consumer electronics to automobiles, commercial vehicles and industrial equipment. Our history of innovation, proven technical expertise and the industry's broadest and deepest portfolio of circuit protection products enable us to provide objective, comprehensive solutions for each customer's unique needs. We are also expanding into adjacent markets that complement our core business including power distribution centers for mining operations, generator controls and protection for marine applications, heavy-duty switches for commercial vehicles and electromechanical sensors used in the automotive industry.
Littelfuse is the preferred brand for leading manufacturers around the world, with more than 30 sales, manufacturing and engineering facilities and a global network of distribution channels.