Hi Power TVS Diodes in a Compact SMT Package
Featured Product from Littelfuse, Inc.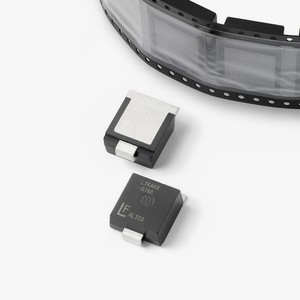 The LTKAK10 series offer superior clamping characteristics over standard SAD technologies by virtue of the Littelfuse Foldbak technology, which provides a clamping voltage lower than the avalanche voltage (but above the rated working voltage). Therefore, any voltage rise due to increased current conduction is contained to a minimum, providing the best possible protection level. They can also be connected in series and/or parallel to create various capability and flexible protection solutions.
LTKAK10 in SMTO-218 package provide the enhanced quality, easy manufacturing and compact mechanical design than current AK TVS families.
Features:
Innovative package (patent pending) design
LTKAK6 and LTKAK10 series being design in SMT package is ideal for automatic pick and place assembly and reflow processes
Excellent surge protection

6kA (LTKAK6) and 10kA (LTKAK10) surge capability (8x20µs waveform)
Hi Power TVS design in compact SMT package
Low clamping and slope resistance
Foldbak technology for superior clamping factor
Supports very low clamping voltage
Sharp breakdown voltage
Applications:
Cell phone base station
Industrial TVSS
Railway (railroad) trackside signaling and control cabinets
Defense & Avionic
Power grid & distribution system
Littelfuse products are vital components in virtually every market that uses electrical energy, from consumer electronics to automobiles, commercial vehicles and industrial equipment. Our history of innovation, proven technical expertise and the industry's broadest and deepest portfolio of circuit protection products enable us to provide objective, comprehensive solutions for each customer's unique needs. We are also expanding into adjacent markets that complement our core business including power distribution centers for mining operations, generator controls and protection for marine applications, heavy-duty switches for commercial vehicles and electromechanical sensors used in the automotive industry.
Littelfuse is the preferred brand for leading manufacturers around the world, with more than 30 sales, manufacturing and engineering facilities and a global network of distribution channels.