High-Speed Round Body Fuses
Featured Product from Littelfuse, Inc.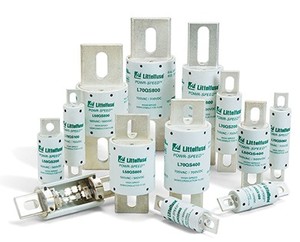 The L75QS Series is a next generation High-Speed Fuse for the protection of power semiconductor devices and is designed in the Traditional Round Body Bolted Style package. L75QS Series High-Speed Fuses rated at 750 Vdc are extremely current limiting and are used to protect power converters, drives and control circuit applications. Designed with lower I2t performance characteristics, these fuses provide balanced performance to extend longevity while lowering potentially damaging heat energy to the devices being protected. In addition L75QS Series fuses have been designed with a universal mounting option to meet customer requirements for installation into a variety of application configurations Littelfuse POWR-SPEED® products offer optimized circuit protection at the extremely fast speed required to protect modern day, sensitive, high-power semiconductor devices.
Founded in 1927, Littelfuse is the world leader in circuit protection with growing global platforms in power control and sensing. The company serves customers in the electronics, automotive and industrial markets with technologies including fuses, semiconductors, polymers, ceramics, relays and sensors. Littelfuse has over 10,000 employees in more than 40 locations throughout the Americas, Europe and Asia. For more information, please visit the Littelfuse website: Littelfuse.com.