High-Speed Square Body Fuses
Featured Product from Littelfuse, Inc.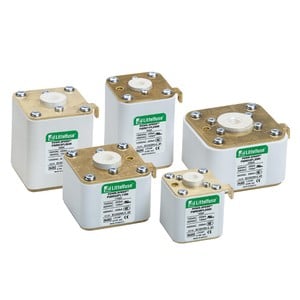 Littelfuse PSR Series High-Speed Square Body Fuses are specially designed for protection of power semiconductor devices such as diodes, triacs, IGBTs, SCRs, MOSFETs and other solid state devices that are typically designed into power conversion and power conditioning equipment. Variable frequency drives, inverters, UPS, rectifiers and soft-starters are examples of typical equipment designed with sensitive power semiconductor devices that cannot withstand any line surge or overcurrent conditions and require high-speed protection.
Littelfuse POWR-SPEED® PSR Series products offer optimized circuit protection at the extremely fast speed required to protect modern day power conversion devices. Such products are commonly found in numerous applications including pulp and paper industries, cranes and heavy-lifting equipment, processing industries, wastewater treatment plants and various large factories and MRO facilities.
Best in Class DC performance
Extremely current limiting
Superior cycling capability
Global certification cURus, CCC, IEC
Direct bus-bar mount design
Visual and optional microswitch fuse blown indication
Low watt-loss design
Compliance with US and Canadian requirements
Class aR performance according to IEC60269-4
POWR-SPEED Fuse Cross Reference
Watch>>>About Littelfuse
Learn more about how the diverse portfolio of Littelfuse products and services for circuit protection, power control and sensing meets the needs of our customers.
View the Littelfuse product catalogs
Littelfuse products are vital components in virtually every market that uses electrical energy, from consumer electronics to automobiles, commercial vehicles and industrial equipment. Our history of innovation, proven technical expertise and the industry's broadest and deepest portfolio of circuit protection products enable us to provide objective, comprehensive solutions for each customer's unique needs. We are also expanding into adjacent markets that complement our core business including power distribution centers for mining operations, generator controls and protection for marine applications, heavy-duty switches for commercial vehicles and electromechanical sensors used in the automotive industry.
Littelfuse is the preferred brand for leading manufacturers around the world, with more than 30 sales, manufacturing and engineering facilities and a global network of distribution channels.