Interactive HVAC Guide Now Available
Featured Product from Littelfuse, Inc.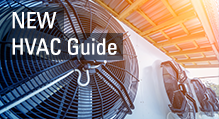 Streamlining HVAC/R System Design
As your design partner, our dedicated HVAC/R team can help you select the right solutions for your application from extensive product portfolio. From overload to overcurrent and accuracy to durability, we have your equipment needs covered.
Interactive HVAC Guide Now Available
New Interactive guide simplifies design process, providing easy access to product specifications and application information.
Watch>>>Littelfuse Everywhere, Every Day
About Littelfuse
Expertise Applied, Answers Delivered.
Littelfuse products are vital components in virtually every market that uses electrical energy, from consumer electronics to automobiles, commercial vehicles and industrial equipment. Our history of innovation, proven technical expertise and the industry's broadest and deepest portfolio of circuit protection products enable us to provide objective, comprehensive solutions for each customer's unique needs. We are also expanding into adjacent markets that complement our core business including power distribution centers for mining operations, generator controls and protection for marine applications, heavy-duty switches for commercial vehicles and electromechanical sensors used in the automotive industry.
Littelfuse is the preferred brand for leading manufacturers around the world, with more than 40 sales, manufacturing and engineering facilities and a global network of distribution channels.