Interested in Solar products and applications?
Featured Product from Littelfuse, Inc.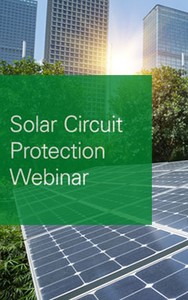 How Circuit Protection Drives Safer and More Cost-effective Solar Architecture to Maximize Output
The building of a solar infrastructure can depend on economic drivers and the pressure to achieve parity with traditional electrical power sources. Therefore, cutting costs and increasing the output of a photovoltaic (PV) system is a priority. By adding in proper solar circuit protection, a more economical architecture can be designed, equipment is safeguarded, downtime is reduced, and safety is improved, creating a more efficient and cost-effective PV system with maximum output.
After completing this webinar attendees will learn:
Why solar fuses are unique compared to general-purpose fuses
Solar standard requirements and how to design in safety
How to properly size fuses to increase efficiencies
The difference between the prevalent system architectures
The benefits of using high-ampacity solar fuses to reduce architecture costs and improve safety
Watch>>>Littelfuse Everywhere, Every Day
About Littelfuse
Expertise Applied, Answers Delivered.
Littelfuse products are vital components in virtually every market that uses electrical energy, from consumer electronics to automobiles, commercial vehicles and industrial equipment. Our history of innovation, proven technical expertise and the industry's broadest and deepest portfolio of circuit protection products enable us to provide objective, comprehensive solutions for each customer's unique needs. We are also expanding into adjacent markets that complement our core business including power distribution centers for mining operations, generator controls and protection for marine applications, heavy-duty switches for commercial vehicles and electromechanical sensors used in the automotive industry.
Littelfuse is the preferred brand for leading manufacturers around the world, with more than 40 sales, manufacturing and engineering facilities and a global network of distribution channels.