Protect USB Type-C plugs from overheating.
Featured Product from Littelfuse, Inc.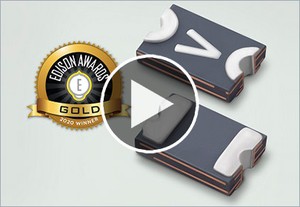 Littelfuse setP temperature sensors named a Gold Award Winner of the 2020 Edison Awards
The PolySwitch setP device was chosen as the winner of the Consumer Electronics and Information Technology category by a panel of more than 3,000 professionals
PolySwitch® Temperature Indicators
The Littelfuse setP™ temperature indicator helps protect USB Type-C plugs from overheating. It has been designed to the unique specifications of USB Type-C and is capable of helping to protect even the highest levels of USB Power Delivery
Features:
Compact footprint 0805 mils
Sensitive and reliable temperature indication
SMD compatible with reflow soldering process
USB Power Delivery compliant
Zero IR loss contribution
Protects systems with 100W or higher power
Evaluated to UL 1434 and Annex J of IEC 60730-1
Applications:
USB Type-C plugs
USB-C to USB-C Cable
Chargers with captive Type-C cables
Fast charging standards and protocols compliant with USB-C and USB-PD
Watch>>>Littelfuse Everywhere, Every Day
About Littelfuse
Expertise Applied, Answers Delivered.
Littelfuse products are vital components in virtually every market that uses electrical energy, from consumer electronics to automobiles, commercial vehicles and industrial equipment. Our history of innovation, proven technical expertise and the industry's broadest and deepest portfolio of circuit protection products enable us to provide objective, comprehensive solutions for each customer's unique needs. We are also expanding into adjacent markets that complement our core business including power distribution centers for mining operations, generator controls and protection for marine applications, heavy-duty switches for commercial vehicles and electromechanical sensors used in the automotive industry.
Littelfuse is the preferred brand for leading manufacturers around the world, with more than 40 sales, manufacturing and engineering facilities and a global network of distribution channels.