Custom Inductive Proximity Sensors
Featured Product from Locon Sensor Systems, Inc.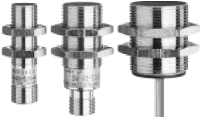 LOCON - your reliable choice for high quality custom sensors.
Locon Sensor Systems has been in the business of modifying standard units and designing new sensors from the ground up for nearly twenty years. We can customize inductive proximity sensors. As simple as changing the cable style or length to designing a unit to fit inside your existing housing, we look forward to assisting you in your custom sensor needs.
If you need sensors to detect metallic objects up to 65mm away, then inductive sensors may be perfect for you. Locon Sensor Systems is renowned for selling top quality sensors, including several varieties of inductive sensors.
Each of our inductive sensors are vacuum sealed to protect the ultra-important electronics inside from variables such as:
debris
vibrations
shock
dirt
moisture
Thanks to that feature, inductive sensors are able to function reliably in a wide range of conditions and environments. Locon Sensor Systems has several sensors available for different conditions including:
basic models
mini sensors
sensors for extreme environments.
As well, we carry high temperature inductive sensors, extra-pressure resistant models, analog sensors and well-immune sensors.
As you can establish, we have the right sensor for businesses in a myriad of industries, but that doesn't mean we have a "one-size-fits-all" approach. Rather, we also have a team of engineers that can customize your sensor to the unique needs of your business. Replace with "We have a team of engineers that can customize your sensor to the unique needs of your application.
To learn more about our sensors, or to discuss what type of sensor you might need, please contact us at your convenience.