AM1808 SOM-M1: Compact, Ideal for Portable Devices
Featured Product from Logic PD, a Compass Electronics Solutions Company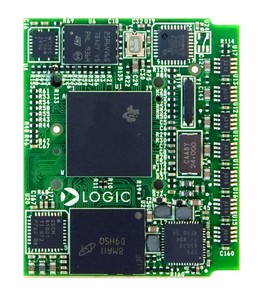 The AM1808 System on Module (SOM) is a compact, product-ready hardware and software solution that fast forwards embedded designs while reducing risk and controlling cost.
Based on Texas Instruments' Sitara™ ARM® AM1808 microprocessor and designed in the SOM-M1 form factor, the AM1808 SOM-M1 module offers essential features for handheld and embedded networking applications.
The AM1808 SOM-M1 brings the industry leading low power ARM926 core to a small, off-the-shelf solution. The standard SOM-M1 form factor allows developers to reuse existing baseboard designs when upgrading to new Sitara processors, which extends roadmap possibilities for their end-product.
Two Zoom™ Development Kit options allow developers to choose the platform best suited to their application needs. By starting with the corresponding Zoom Development Kit, engineers can write application software on the same hardware that will be used in their final product.
The compact size of the AM1808 SOM-M1 is ideal for medical patient monitoring wearables and other portable instrumentation applications; the built-in Serial ATA (SATA) controller provides fast access to large capacity storage devices. For medical, industrial, audio, and communication products, the AM1808 SOM-M1 allows for powerful versatility, long-life, and greener products.
Contact Logic PD here for more details on ordering this SOM.