Tailored Electronics Manufacturing Solutions
Service Detail from Logic PD, a Compass Electronics Solutions Company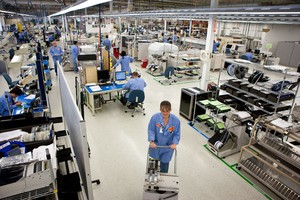 For 50 years, Logic PD has excelled by providing tailored EMS solutions for regulated industries. We create the most complex and innovative electronic products for both connected and non-connected environments. With our Agile Planning Process at the core of Logic PD Business System (LBS), we adapt to meet our customers' high-mix/high-variability requirements and exhibit the flexibility required from a manufacturing partner. LBS is a result of a half-century of refinement, best practices, processes, and tools for
high-mix/high-variability contract manufacturing.
From rapid prototyping, to low volume/high mix, to cost-optimized nearshore manufacturing options in Mexico, Logic PD leverages the latest technologies and techniques to meet customers' time-to-market, budget, and quality goals. Our robust, stable, and proven Quality Management System ensures that we deliver high-quality
product every time.
Logic PD offers a unique mix of advanced capabilities and commitment to customer success. For every aspect of your EMS needs, we're here for you as a partner each step of the way.
Learn more and see our complete list of EMS services here.
Contact Logic PD here to find out how we can help fulfill your electronics manufacturing needs.