Torpedo™: PC-like Speeds on a <1-Sq In. SOM!
Featured Product from Logic PD, a Compass Electronics Solutions Company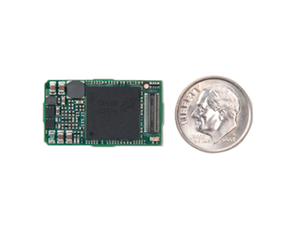 The Torpedo™ System on Module (SOM) is an ultra-compact form factor based on Texas Instruments' DaVinci™ DM3730 and Sitara™ AM3703 processors.
The DM3730 Torpedo SOM occupies less than one square inch, but boasts PC-like speeds up to 1 GHz with long battery life. Partnered with such high performance is a startlingly low power consumption of less than 5 mW when in suspend state. This balance of speed and power is accomplished through Logic PD's vast system design experience; understanding the most detailed workings of each component and their interaction with one another creates a product that operates at optimal efficiency.
The DM3730 Torpedo SOM is available in several standard configurations, including TI's Sitara AM3703 ARM microprocessor. By remaining footprint compatible with Logic PD's existing OMAP35x Torpedo SOM, the DM3730 Torpedo SOM extends the roadmaps of existing products and provides an upgrade path from today's products to future technologies.
The ultra-compact Torpedo SOM is an ideal off-the-shelf solution for applications in markets where space is a premium. From point-of-care medical devices to hand-held radios to mobile Internet devices, the Torpedo SOM allows for the powerful versatility and compact designs needed in today's market-changing products.
The Zoom™ DM3730 Torpedo Development Kit includes all of the necessary accessories to immediately begin development, helping customers deliver their products to market sooner.
Contact Logic PD here for more details on ordering this SOM.