Xilinx SOM: High Performance + FPGA in 1 Chip
Featured Product from Compass Electronics Solutions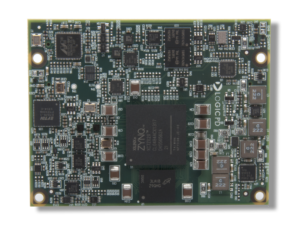 Today's smart systems provide increasing amounts of information to make more intelligent decisions for efficiency, security, cost, quality, and productivity. The vast amount of data these smart systems transfer requires a combination of software-based control with real-time processing capability and optimized system interfaces.
Logic PD's Inflexion™ System on Module (SOM), based on Xilinx's Zynq™ Z-7020 System on Chip (SoC), is an ideal off-the-shelf solution for today's smart systems. The Zynq Z-7020 SoC platform's combination of a high performance application microprocessor with a Field Programmable Gate Array (FPGA) in a single chip provides a best-in-class platform that balances both performance and power. By utilizing the Zynq Z-7020 SoC, Logic PD's Inflexion SOM is a perfect solution for applications that require high processing power, a high level of security and reliability, and the ability to optimize system interfaces and perform real-time analytics and control.
The Inflexion SOM can help you realize a faster time to market, reduce design risk, increase product quality, decrease development costs, and address resource constraints resulting in a lower total lifecycle product cost. Additionally, Logic PD has the experience and knowledge to help you integrate the Inflexion SOM into your product design, select the right Zynq-7000 platform, and develop a customized Inflexion SOM to meet the needs of your application.
Contact Logic PD here for more details on ordering this SOM.