Front Label Applicator - F Applicator
Product Announcement from Logopak Corporation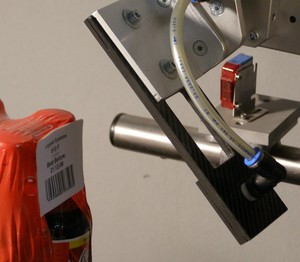 F Applicator – Front application. Blow applicator for non-contact application of labels to the front or rear of products as they pass through the labeling process. Variable length carbon fiber arm allows for fast, long reaches. Can be used with any Logopak case labeling system.
Custom Applications from Logopak:
Logopak complements a full line of high-performance labeling systems with proven custom design and manufacturing capabilities to ensure that customers receive the best solution for their labeling needs.
Got a tough environment? Logopak can supply a heavy gauge steel enclosure that will stand up to the rigors of a harsh environment. Got a hot or cold warehouse? Logopak can supply an enclosure with cooling or heating capabilities. Dirty, dusty or wet? Logopak enclosures have applicator doors that open only as needed during the application cycle. Logopak enclosures are also available in stainless steel for applications where a painted enclosure is not acceptable.
With an extensive array of applicators, whether it's on the front of the case, on the side, top down, or even from the bottom up, Logopak has the answer to your automated print and apply application challenges. For faster lines, larger off-winds for labels and thermal transfer ribbon are available with the label stock and thermal transfer ribbon being supplied in matching lengths.
For the fastest lines or where maximum uptime is critical Logopak offers tandem systems. With a tandem control system the labeling of products is shared by two machines. If one of the machines is off-line (i.e. for label or ribbon replacement), the second machine takes over labeling all your products. When both machines are available again, the production is shared. This innovative system of redundant labelers, combined with legendary Logopak reliability, ensures your production line can keep running.
Logopak also provides custom mounting capabilities for its labeling systems. Whether you need fixed mounting to your conveyor line, manual adjustment in the X, Y or Z direction, or a system that automatically changes the labeler position for a special application, the project engineering team at Logopak can design a system to meet your needs.
---