Inline Cordless Battery Tools SKC-PTA-BS
Featured Product from Loover Industrial Co., Ltd.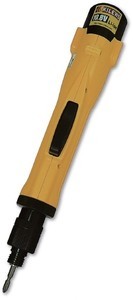 Kilews Inline Cordless Battery Electric Screwdriver
SKC-PTA-BS20/30/45
Inline type (straight type) with Brushless Motor.
For Industrial usage.
Torque range 0.3~4.5(N.m).
Unique product in the existing market.
Adopt 10.8V Li-ion battery to reduce the weight.
The repeatable torque accuracy ±3%.
Can be used with 90 degree attachment.