Double Shot Socket Wrench®
Featured Product from Lowell Corporation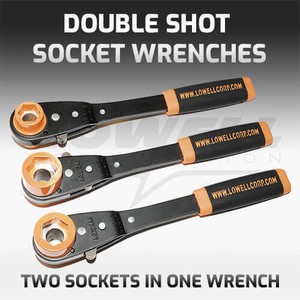 Lowell DoubleShots® are designed for water, wastewater, pipeline and underground electrical utility installation and repair. No environment is too hostile for a Lowell DoubleShot®. The ratchet mechanism is easy to use and capable of working while "dirty". Each heavy duty stamped steel wrench handle is 12" long and has Lowell's Bolt-Thru feature which lets workers tighten nuts on long bolts or any length of threaded rod, eliminating the need for deep sockets or open-end wrenches. The sockets are made from rugged cast iron and painted florescent orange. To make using the tools more comfortable and secure, each wrench has a rubber coated molded grip.
Nine socket combinations are available for heavy hex, standard hex and metric hex fasteners.
DS-1 = 1-1/4" x 1-1/16"
DS-2 = 1-1/8" x 15/16"
DS-3 = 15/16" x 3/4"
DS-4 = 3/4" x 7/8"
DS-5 = 19 mm x 22 mm
DS-6 = 1-1/8" x 1-1/16"
DS-7 = 17 mm x 19 mm
DS-8 = 22 mm x 24 mm
DS-9 = 24 mm x 30 mm
Doubleshots are also available in three wrench sets.
DSIN = 1 ea. DS-1, DS-2 & DS-4
DSRP = 1 ea. DS-1, DS-2 & DS-3
Heavy-duty dedicated wrenches designed specifically for pipeline, maintenance, utility and construction workers:
Ten socket size combinations for heavy, standard and metric hex nuts, as well as hydrant repair
Sockets made of rugged cast iron
Fluorescent orange sockets make the wrenches harder to lose
Handle and sockets coated with durable electrostatic epoxy paint for easy cleaning
Reversing control in head
Stamped, riveted handle
Ergonomic non-slip grip
Bolt-thru design lets long bolts pass entirely through wrench head
All wrenches 12" long; Weight 2-1/4 lbs
For more information, please visit our website.