DoubleShot®
Featured Product from Lowell Corporation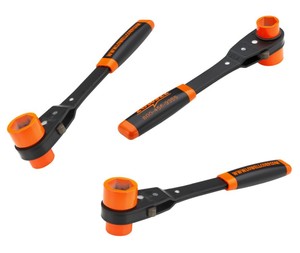 Lowell DoubleShots® are designed for water, wastewater, pipeline and underground electrical utility installation and repair. No environment is too hostile for a Lowell DoubleShot®. The ratchet mechanism is easy to use and capable of working while "dirty". Each heavy duty stamped steel wrench handle is 12" long and has Lowell's Bolt-Thru feature which lets workers tighten nuts on long bolts or any length of threaded rod, eliminating the need for deep sockets or open-end wrenches. The sockets are made from rugged cast iron and painted florescent orange. To make using the tools more comfortable and secure, each wrench has a rubber coated molded grip.
Nine socket combinations are available for heavy hex, standard hex and metric hex fasteners.
DS-1 = 1-1/4" x 1-1/16"
DS-2 = 1-1/8" x 15/16"
DS-3 = 15/16" x 3/4"
DS-4 = 3/4" x 7/8"
DS-5 = 19 mm x 22 mm
DS-6 = 1-1/8" x 1-1/16"
DS-7 = 17 mm x 19 mm
DS-8 = 22 mm x 24 mm
DS-9 = 24 mm x 30 mm
Doubleshots are also available in three wrench sets.
DSIN = 1 ea. DS-1, DS-2 & DS-4
DSRP = 1 ea. DS-1, DS-2 & DS-3