Lowell - Extended Reach "Bolt-Thru" Sockets
Featured Product from Lowell Corporation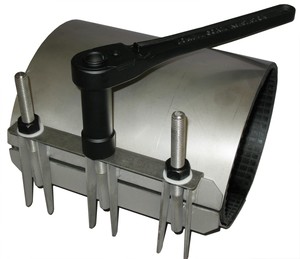 Almost 140 years ago Lowell improved the process of tightening nuts on long bolts or threaded rods when we introduced "Bolt-Thru" ratchet arms and socket wrenches. Now, Lowell has incorporated the "Bolt-Thru" concept to an extended socket. The Lowell extended reach sockets give workers greater freedom and leverage in tight spots while reducing the risk of injuries.
These sockets are designed for rugged applications commonly found in plant maintenance, repair, operation and production as well as construction and pipeline work. Each socket is 3-1/2" long, giving workers an extended reach so that the wrench handle can clear common obstacles such as housings. This extra clearance not only reduces the risk of injury, but also gives workers a wider swing which, in turn, means that work is easier and goes faster.
Extended Reach sockets are available individually or can be purchased as a set with a 51QR quick release (set 511X) or SureTork® "Bolt-Thru" torque handle (set 516X). The standard hex sizes are 3/4", 7/8", 15/16", 1-1/16", 1-1/8" and 1-1/4".
1 ea. 51QR, 12", "Bolt-Thru", quick release socket wrench
5 ea. hexagonal sockets - 7/8", 15/16". 1-1/16", 1-1/8", & 1-1/4"
(3/4" hex and metric sizes are available - special order)
1 ea. plastic carrying case
1 ea. SureTork® Bolt-Thru" torque handle
5 ea. hexagonal sockets - 7/8", 15/16". 1-1/16", 1-1/8", & 1-1/4"
(3/4" hex and metric sizes are available - special order)
1 ea. plastic carrying case