Lowell Low Cost Ratchet Clutches
Featured Product from Lowell Corporation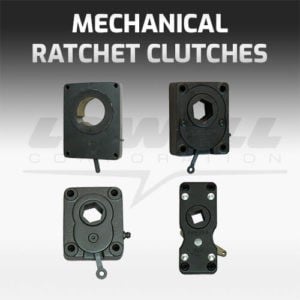 Lowell Series 700 Ratchet Clutches are self-contained versions of the ancient ratchet-and-pawl mechanism. They can be attached rigidly to or free-float on machinery and equipment. Uses include overrunning, backstopping, coupling and indexing. Their working parts consist of a rotating gear, spring-loaded pawl/shifter and a sandwiched steel plate body.
By moving the control lever of the spring-loaded shifter away from the gear; the gear may be driven in a clockwise direction only. When control lever is moved toward the gear the gear may be rotated counterclockwise only. The control lever may be actuated by solenoids, cylinders, mechanical linkages or even manually.
The self-contained lever-controlled ratchet clutch is intended to compete with industrial electric, hydraulic and sprag-type mechanical clutches. It compares favorably on the basis of torque-vs.-weight, torque-vs.-price and torque-vs.-envelope. In overrunning service it also compares favorably in terms of efficiency and torque-vs.-overrunning-speed. Stock units are available with static torque ratings of 80 to 1,50 lb-ft. Maximum overrunning-speeds are between 250 and 100 rpm. (lower speed for larger model)
For higher torque applications (above 250 lb-ft) Lowell offers the Series 70 Cast Iron Ratchet Clutches. Custom models are also available and everything is 100% made in the U.S.A!