Full High Definition 1080p60 Microscopy Camera
Product Announcement from Lumenera Corporation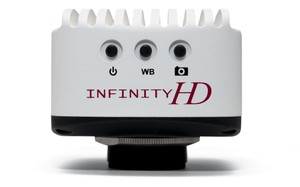 Lumenera Launches Full High Definition 1080p60 Microscopy Camera
Complete imaging solution offers best price-to-performance ratio on the market
Neuroscience 2011 - Washington, DC - November 14, 2011 - Lumenera Corporation, www.lumenera.com, a leading manufacturer and developer of high performance digital cameras and custom imaging solutions for scientific, industrial and surveillance markets, announces the release of the INFINITYHD 2 megapixel microscopy color camera. Engineered with a high resolution 1/3" CMOS sensor, this camera was devised to provide streaming video output over an HDMI connector, uniquely running autonomously without the need for a computer.
The INFINITYHD provides excellent color reproduction, making it ideally suited for color-sensitive microscopy applications including brightfield, clinical and industrial microscopy. This camera provides true 1080p60 streaming video with full color output. This camera is equipped with a built in auto-intensity compensation that automatically adjusts the video stream as the microscope objective or the light intensity changes. Real-time live video preview enables accurate focus and specimen placement allowing for quicker slide reviews.
A USB 2.0 port connects to a computer or laptop in order to optimize auto white balance and quickly capture images from the camera. The USB 2.0 digital interface ensures a simple plug-and-play installation, and is combined with a proven, stable set of USB camera drivers to provide reliability and long-term operation with no down time.
"Lumenera has listened to voices of customers and our valued partners when developing our new easy-to-use, HD INFINITY camera," said Shari Anne Bordeleau, Director of Channel Sales at Lumenera Corporation. "Our goal is to continue providing customers with excellent image quality and color reproduction, while maintaining our reputation of offering high quality, scientific cameras with the best price-to-performance ratio on the market."
The INFINITYHD will be shipping in Q1/2012. Contact info@lumenera.com with your imaging requirements, or visit the Lumenera website at www.lumenera.com for more information on this product and our custom OEM imaging solutions.
About Lumenera
Lumenera Corporation, a division of Roper Industries, and headquartered in Ottawa, Canada, is a leading developer and manufacturer of high performance digital cameras and custom imaging solutions. Lumenera cameras are used worldwide in a diverse range of industrial, scientific and security applications.
Lumenera solutions provide unique combinations of speed, resolution and sensitivity in order to satisfy the most demanding digital imaging requirements. Lumenera customers achieve the benefit of superior price to performance ratios and faster time to market with the company's commitment to high quality, cost effective product solutions.
---