High Resolution CCD Astrophotography Camera
Product Announcement from Lumenera Corporation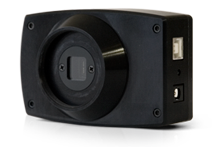 Lumenera offers superior CCD cameras specifically designed for lunar, solar and planetary imaging, featuring high sensitivity and extremely fast frame rates.
SKYnyx2.0
Lumenera's SKYnyx2-0 VGA CCD digital camera is specifically designed for lunar, solar and planetary imaging, featuring high sensitivity, low noise and extremely fast frame rates. With 640x480 resolution and on-board processing, the SKYnyx2-0 delivers outstanding image quality.
Featutes:
The high-speed USB 2.0 interface eliminates a framegrabber and facilitates ease of installation on both laptop and desktop computers
The excellent sensitivity and low noise characteristics of the SKYnyx2-0 CCD image sensor enable users to capture high quality images
60 fps at full 640x480 resolution, with no compression
Maximum frame rate exceeds 100 fps with binning and ROI
Select 8 & 12-bit pixel data modes
The RGB data captured through each pixel contains 36-bits of color image information resulting in 4096 intensity values
Both custom design services and a Software Developer's Kit (SDK) are available to help with unique design requirements and software integration
SKYnyx2-0 captures images through our 3rd party software partners
SKYnyx2-0 cameras are software compatible with Windows™ 98 SE, Windows ME, Windows 2K, Windows XP, and Windows Vista operating systems
Full one (1) year warranty
Specifically designed for the astrophotography market, this camera's technology and design are based on Lumenera's Lu075 camera - named a 2006 Hot Product by Sky & Telescope Magazine. The SKYnyx2-0 surpasses its predecessor with reduced noise levels and power consumption, ROI, and 60 fps (higher with binning).
SKYnyx2-0 is supported by an experienced team of technical support and imaging experts. We understand your imaging needs and are here to help you get the most out of your camera. Capture clear, crisp, planetary, lunar and solar images with the SKYnyx2-0.
View other Astro Cameras from Lumerera Corporation.
About Lumerera Corporation:
Lumenera Corporation is a leading developer and manufacturer of high performance digital cameras and custom imaging solutions which are used worldwide in a diverse range of industrial, scientific and security applications.
Please click on the links to the right or contact Lumenera Corporation today for more information.
---