INFINITY1-2 2.0 MP Scientific CMOS USB 2.0 Camera
Product Announcement from Lumenera Corporation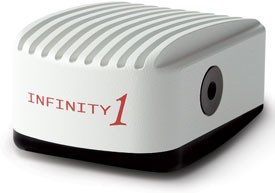 Lumenera Corporation, a leading developer and manufacturer of high performance digital cameras and custom imaging solutions today announced the release of a new cost-effective, versatile microscopy camera designed for clinical, life science, material science and educational professionals with high to moderate illumination in their application.
The INFINITY1-2 color microscope camera features a unique 2.0 megapixel ½" CMOS sensor, offering up to 96 frames per second. Equipped with an adjustable C-Mount, this camera is ideal for use with all microscope configurations including upright, inverted and stereo. Delivering outstanding image quality and excellent value this camera is the perfect replacement for the INFINITY1-1 USB 2.0 camera.
Additional highlights include 1600x1200 resolution, on-board processing, and sub-sampling for rapid focus at full field of view along with increased pixel intensities in challenging light conditions. Live video preview provides for real-time focus while auto exposure and auto white balance efficiently capture your optimal image. A USB 2.0 digital interface ensures a simple plug-and-play installation without the need for a framegrabber. Lumenera's proven and stable set of USB camera drivers provide reliability, interoperability and long term operability with no down time.
This complete solution includes INFINITY ANALYZE software for advanced camera control, image processing, measuring and annotation, as well as INFINITY CAPTURE, an intuitive user interface which includes all of the basic features needed to control your INFINITY camera and capture images. Advanced camera control is available through a Software Developers Kit, while TWAIN and DIRECTX drivers ensure integration and compatibility with a variety of 3rd party software applications.
The INFINITY1-2 is now available. Contact scientificsales@lumenera.com with your requirements today or visit the Lumenera website at www.lumenera.com.
---