INFINITYX-32 CCD MICROSCOPY CAMERA
Product Announcement from Lumenera Corporation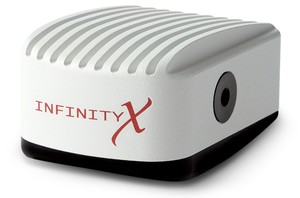 The INFINITYX-32 pixel shifting camera is specifically designed for customers in the clinical, life and material science fields. Available at a fraction of the cost of competitive cameras, this complete imaging solution with an unbeatable price-to-performance ratio, offers 32 megapixel resolution, high sensitivity, 12-bit data and low noise levels.
The INFINITYX-32 is the first pixel shifting camera based on the Sony ICX274 CCD sensor. This progressive scan 2.0 megapixel sensor is comprised of 4.4 micron square pixels in a 1616 x 1216 array. Patented DeltaVuTM technology captures still images at user selectable resolutions between 2 and 32 megapixel, maximizing the resolving power of the microscope optics. This unique technology shifts the sensor at sub-pixel resolution between each image capture, resulting in a megapixel image with precise detail and incredible color reproduction.
Live video provides real-time focus, while auto exposure and auto white balance provide high quality images. A USB 2.0 digital interface ensures a simple plug-and-play installation with no need for costly and difficult-to-handle framegrabbers. Available in both color and monochrome, the INFINITYX-32 is fully supported by Lumenera's advanced and easy-to-use INFINITY ANALYZE software, with a wide variety of functions for image enhancement and analysis, including measurement, annotation, archiving and image processing. Advanced camera control is available through a Software Developers Kit, while TWAIN and DIRECTX drivers ensure integration and compatibility with a variety of 3rd party software applications.
- 32 megapixel resolution is achieved through shifting a color or monochrome sensor with a 1616X1216 pixel array - Users will have the flexibility of choosing between 2, 8, 16 and 32 megapixel resolution on capture, taking full advantage of their microscope optics - Highly sensitive, low noise CCD with remarkable color quality for the most demanding applications - Full color sub-windowing allows for rapid focus and scanning of samples: 12 fps at full 1616X1216 resolution, 25 fps at smaller regions of interest - 8 / 12-bit selectable output format - The RGB data captured through each pixel contains 36-bits of color image information resulting in 4096 intensity values per color - Camera control through INFINITY CAPTURE, an intuitive user interface, resulting in rapid image capture, archiving and documentation for high throughput applications - INFINITY ANALYZE software for advanced camera control, image processing, measurement, annotation and archiving - Easy and flexible installation on your PC through a standard, high-speed USB 2.0 interface - INFINITYX-32 cameras are software compatible with Windows 2K, Windows XP and Windows Vista operating systems - Full one (1) year warranty
---