HYPERION Single Board Interrogator
Featured Product from Luna Innovations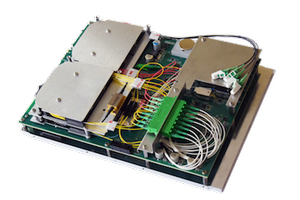 Derived from our HYPERION si155 platform, the HYPERION Single Board Interrogator leverages the high performance of the Micron Optics patented fiber Fabry-Perot filter and wavelength reference technology.
The HYPERION Single Board Interrogator features groundbreaking capabilities including high-performance DSP and real-time FPGA processing on-board, which enables rapid, flexible peak detect algorithms of Fiber Bragg Gratings (FBG), Long Period Gratings (LPGs), Fabry-Perot (FP), Mach-Zehnder (MZ) sensors.
The HYPERION Single Board Interrogator is compatible with ENLIGHT software which provides a single suite of tools for data acquisition, computation, and analysis of optical sensor networks. This interrogator also includes a comprehensive Application Programming Interface (API) and examples written in LabVIEW, Python, Matlab, C++, and C#.