FDA Approved Adhesives for Direct Food Contact
Featured Product from Mactac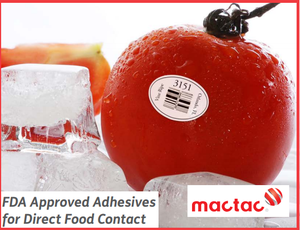 CHILL AT®FDA Direct and 711VHP adhesives both comply with FDA regulation 175.125 for direct food contact surface of labels applied to poultry, dry and processed food and raw fruits and vegetables.
These adhesives are often used on PLU labels, adhered to fresh produce. The labels can carry a PLU code, barcode, produce name, country of origin (COOL) brand name or logo.
Mactac offers PSA coated papers and films in roll to roll form with extensive product options, customization, varying roll lengths and widths.
Mactac Precise Program offers next day shipping on a precise amount of material needed for small runs and limited applications.
Explore Mactac's Roll Labels and see in depth details of our FDA Approved solutions