Rubber Rivet Tape replaces mechanical fasteners
Featured Product from Mactac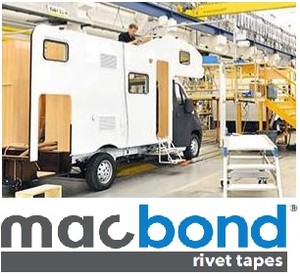 Immediately bonding to most surfaces Macbond® Rivet Tapes replace mechanical fasteners and promise less clean up than liquid adhesives. Ideal for metal, wood, polyethylene, polyproylene, glass and more.
Applications include:
POP/signage
RV/transportation assembly
Appliance
Gasketing
Vibration/sound dampening
Flooring
Mactac specializes in formulating high performance adhesives that can be coated in thick solid patterns. Revolutionize your fastening solution portfolio with solvent-free high strength Rivet Tapes today.