Tapes for Protective and Diagnostic Equipment
Featured Product from Mactac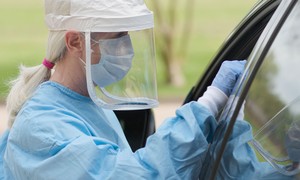 Providing aid to the medical community, Mactac® delivers an extensive offering of pressure-sensitive adhesive tapes for protective and diagnostic equipment applications.
Available 24/7 to help customers provide needed medical resources, Mactac's industrial foam and medical tapes are ideal for face masks, protective shields and sanitization dispensers.
"Mactac's medical and diagnostic tapes are available to help our customers provide needed protective and diagnostic equipment to the medical community," says Janet Page, Senior Marketing Manager, Mactac Performance Adhesives. "As always, our adhesives are solvent-free and 100-percent skin-friendly. Additionally, our shipping processes are currently expedited so samples and orders arrive extremely fast."
Mactac's protective and diagnostic equipment tape offerings, include:

Industrial Tapes:
MacBond

®

HTA410 Acrylic Tapes

Available in double-coated and transfer adhesive constructions, these tapes feature Mactac's aggressive HTA410 adhesive with excellent quick tack and peel strength. The adhesive bonds well to polyether/polyurethane open-cell foams and medium- to high-surface energy plastics. Ideal for face shields and more.


MacBond LSE427 Acrylic Tapes

Available as a double-coated tape as well as a 2.0-mil transfer adhesive and a
5.0-mil tissue-supported transfer adhesive, these tapes feature Mactac's LSE427 adhesive that is designed for bonding to foams and plastic materials.


MacMount

®

Ultra 555 Mounting and Bonding Tapes

Available as a double-coated polyester construction and a double-coated foam, these tapes feature a 78# SCK liner and Mactac's Ultra 555 adhesive. This unique adhesive is designed to provide ultimate holding power and is ideal for dispenser, fixtures or protective shielding installations.


MacBond Foam Bonding Tapes

Available with a 60# or 80# liner, these double-coated tapes feature Mactac's FBR899 adhesive (exposed side) and XT Rubber adhesive (liner side). FBR899 quickly and easily bonds to open-cell polyurethane foams and the high-shear XT Rubber bonds exceptionally well to smooth surfaces.
Medical Tapes:
Single-Coated Foam (TM4101, TM4130)

Available in 1/16" and 1/32" thicknesses, these foam tapes feature Mactac's Acrysure® acrylic adhesive and a 96# PCK liner. Designed for electrodes, face shields, seals and gaskets.


Double-Coated Foam (TM4200, TM4230)

Available in 1/16" and 1/32" thicknesses, these double-coated foam tapes feature Mactac's Acrysure adhesive on the liner side and Silk™ Adhesive System on the unwind side. Ideal for device assembly where depth is needed, as well as for electrodes, seals and gaskets.


Single-Coated Nonwoven (TM8102)

Featuring a 2.4-oz white spunlace non-woven construction paired with a medical-grade acrylic adhesive, these tapes work exceptionally well for soft coverings, electrodes and monitoring devices.