Multichannel Digital Seismic Acquisition System
Featured Product from M.A.E. Apparecchiature Elettroniche srl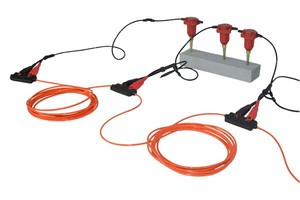 Seismograph for active and passive seismic tests with distributive architecture and freely configuration of the number of channels from 1 to 24. S485 System is made by a series of miniaturized loggers/digitizers, equipped by standard sockets with Mueller connection for geophones, distributed along the cable.
Distributive architecture allows a drastic reduction of dimensions and weights, assuring extreme lightness and praticity for using it without sacrificing reliability and resolution, typical features of centralized system. Each single S485 acquisition unit is equipped by its own miniaturized acquisition board with a 24 bit converter ensuring, in this way, the maximum accuracy and lowest possible noise in any condition.
Single acquisition units are connected with spaces and numbers configurable according to user needs.
Light and transportable acquisition system, the acquisition units, located on cable, are provided on an extremely light and very small cable reel.
Upon request, all S485 units could be equipped by connectors which make each single unit independent, in order to increase reliability on field.
Through this option, in case of failure of a channel, it's possible to eliminate it from the laying or substitute it with another identical unit and resume the acquisition. In this way, it is possible to freely configure instrument and survey device, modulating number of channels according to dimensions of the site.
Advantages of such a seismograph with distributive architecture are so many and they consist, above all, in the extreme compactness and lightness of the system which allows an easy transport also in hard environments which may cause difficulties in dislocating laying; this is a logistical advantage which affects total costs of surveys operation.
Different methodology chosen for this project, compared to traditional seismographs, allows saving of money which significantly affects total costs of the instrument which is particularly desirable for its value for money. Furthermore, instrument is powered by USB port of any netbook or notebook, increasing more and more cost savings.
S485 units are equipped by mueller clips standard connectors with gold-plated terminals and are compatible with geophones of any manufacturer. Unique feature of the system is that single loggers/digitizers S485 units are not simply placed on assembled plastic containers, but they are produced by thermofusion molding and so are watertight in order to ensure a more durable product and suitable for hard environments acquisition campaigns.
Use of this productive methodology grants a strength construction which helps reducing weight and dimension, so that instrument remains very compact. Particular care used in designing of the instrument, together with an improved durability, allows a great reduction of unexpected accidents that usually cause expensive assistance service. Instrument resistant structure influences reduction of costs and its maintenance.
- SPECIFICATIONS -
- GENERAL-
- Data storage: hard-disk capacity of PC
- PC Interface: A USB
- Recording format: SEG2, owner.
- Consumption: stand-by 361 mA (1,4 W)
- Battery: integrated 3,7V 2600mA
- Battery autonomy: instrument autonomy is linked to the state of charge of PC to which is interfaced.
- Autonomy in standard conditions: about 7 hours
- Recharging socket: USB, A type
- Charging time: about 6 hours
- Dimensions of single element: 80 x 40 x 12 mm
- Total weight and dimensions: 402 x 320 x 210 mm, 5,2 Kg
- ACQUISITION -
- Maximum number of channels: 24
- Acquisition: ADC Delta-Sigma @ 24 bit
- Dynamic range: 144 dB (theoretical
- Rejection: common mode 110 dB @ 60Hz.
- Preamplifier: 0, 6, 12, 18, 24, 30, 36 dB.
- Maximum input signal: ±5 V.
- Filters: anti-alias -3 dB @ 80% of Nyquist frequency.
- Input impedance: 20 Mohm
- Sampling frequencies: 2,5, 5, 10, 15, 20, 25, 30, 50, 60, 100, 500, 1000, 2000, 3750, 7500, 15000, 30000 SPS
- Sampling intervals: 400, 200, 100, 66,6, 50, 40, 33,3, 20, 16, 10, 2, 1, 0,5, 0,26, 0,13, 0,066, 0,033 ms
- Storable samples: until 40000 samples, on 24 channels canali Fc <2000 Hz
- Passive acquisition: on 12 channels Fc = 2000 Hz, on 24 channels Fc <2000 Hz
- Trigger: external or above one of the channels, positive, negative, with activation threshold settable by software-
- Pre-trigger: to 10000 samples
- Cross-talk: none, converter is directly linked to geophone, data transmission is digital.
- Auto-calibration: converters
- Line tests: yes, geophones detection, short and open circuit detection.