Compact Power Pack for High Pressure Valve Testing
Product Announcement from MAXPRO Technologies, Inc.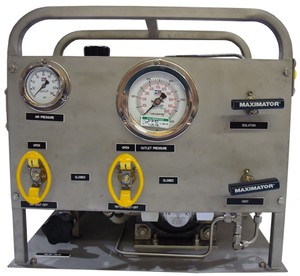 Compact: 16" wide x 16" deep x 18" high
Designed for performing 10,000 psig pressure tests using water at 95 psig
Currently in use for well-head testing in Marcellus Shale area.
All components are pre-plumbed onto a stainless steel plate with a handle and a valve and gauge panel.
Major component is Maximator L100-VE-S air driven high pressure pump, 1:113 pressure ratio
---