Cost Effective Valve Alternative 15,000-21,000 psi
Product Announcement from MAXPRO Technologies, Inc.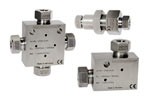 MAXIMATOR has been designing and manufacturing high pressure equipment for more than thirty years and has a world wide reputation for quality and reliability, backed by one of the best service organizations in the industry.
Medium Pressure Valves feature:
Rising stem design.
316SS wetted parts for excellent corrosion resistance.
Metal-to-metal seating achieves bubble-tight shut-off, longer stem and seat life, greater durability for repeated open and close cycles.
PTFE and carbon packing with metal back-up rings offers reliable stem to body sealing.
Non-rotating stem prevents stem to seat galling.
Stem sleeve and packing gland materials have been selected to achieve optimum thread cycle life and reduced handle torque. All stem sleeve threads are rolled, assuring smooth operation.
Safety weep holes for all pressure connections and packing area.
Six different valve body patterns, with choice of vee or regulating type stem tip.
MAXPRO offers a complete line of medium pressure fittings, tubing, check valves, line filters, anti-vibration fittings and safety head assemblies. All medium pressure valves and fittings use the medium pressure style connection. This coned and threaded connection features orifice sizes to match the high flow characteristics of the medium pressure valve, fitting and tubing line.
Note: When selecting multiple items, the pressure rating would be that of the lowest rated component.
---