Easy to Use Pressure Test Logger for Data Transfer
Product Announcement from MAXPRO Technologies, Inc.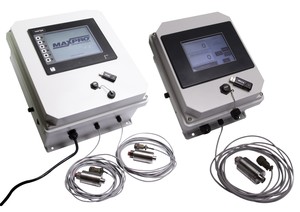 Pressure loggers are useful in any industry that has need for an easy, accurate way to record pressure tests, and is a valued replacement for Chart Recorders.
The instrument allows the user to view pressure digitally as well as on a trend line while archiving the pressure data to a USB drive for transfer to a computer. The complete Pressure Logger comes with a pressure transducer (Dual Logger comes with two pressure transducers), 2 pre-formatted jump drives and instructions, including step by step instructions on how to create customized test reports.
The single logger is a compact unit which measures 10" x 8" x 6" and weighs 5 lbs. It features a 6" Grayscale touch panel, a USB Memory Port, RS485 Comm Port (Modbus RTU), 120 Vac Power, Digital Indication of Realtime Pressure and Peak Pressure, Trending On screen, Data Storage for import into Spreadsheets and Auto Peak Reset. Additional pressure ranges available from 0-250 psi to 0-60,000 psi.
The dual logger features an 8" color touch screen, and measures 17 1/2 x 15 1/2 x 8", and works with ranges from 0-10,000 and 0-20,000-60,000 psi. Dual Logger can also add customer information on the screen to import with the test data, for example, the job number, customer name or number.
Options include 24 Vdc or 12 Vdc power, Ethernet Communication, Special Pressure Ranges and Custom Report Configuration.
Currently these units are in use by customers in the Marcellus Gas industry who pressure test well head components using the pressure logger and a Maxpro packaged power system.
---