Gas Recievers For Use with Non-Corrosive Gases
Product Announcement from MAXPRO Technologies, Inc.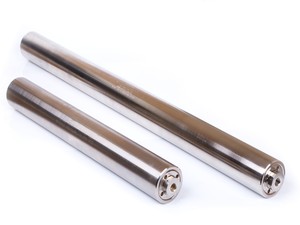 These Gas Receivers are designed to be used as storage accumulators or in other applications requiring a pressure vessel of these sizes and pressure ratings.
They are compatible with non-corrosive gases (helium, argon, nitrogen, etc.) Not suited for hydrogen service. Cleaning for oxygen service is available. Each receiver is hydrostatically tested to 1½ times its rated working pressure.
Two sizes are available (generally for same day shipment) with the following specifications:
REC-36S is 36 cubic inches, 10,000 psi, 2½" diameter by 20¾" length
REC-66S is 66 cubic inches, 10,000 psi, 2½" diameter by 33¾" length
Maxpro Gas Receivers are a single ended design (closure on one end), manufactured from heat treated alloy steel and electroless nickel plated inside and out.
Connection at each end is ¼" high pressure coned and threaded female. Seals are Viton®. Optional seal materials are available.
---