Plastics Molding Benefits From Liquid CO2 Booster
Product Announcement from MAXPRO Technologies, Inc.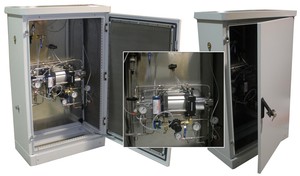 Maxpro Technologies custom packaged this locking cabinet style system for installation outdoors at a plastics manufacturing plant. It utilizes a Maximator DLE15 Booster to achieve a continuous flow application to boost liquid CO2 from 180 PSIg to 1200 PSIg for the required process.
The product pressure range is from 100-3,000 psi, boosting Super-Critical CO2 with a flow range of 40-80 KG/HR.
Approximate physical size of the unit is 36" W x 18" D x 55" H. Installing the unit in the locking cabinet outside of the plant has the benefit of locating the unit near the storage system while allowing for more flexibility in laying out the customer's process. The locking door provides easy and secure access to the booster when service is needed.
Lead time for this unit or similar is 8 to 10 weeks, with an approximate price of $ 17,000.00.
Maxpro Technologies is the North American distributor for Maximator high pressure pumps, air amps, boosters, valves, fittings and tubing as well as custom systems like this. Maxpro ships products to locations in North America only.
---