Portable Cart - Hydrostatic Tests/Records Leaks
Product Announcement from MAXPRO Technologies, Inc.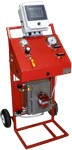 These carts are completely portable and require only a shop air line to operate if the reservoir option is selected. A variety of pressure ranges are available to fit your specific requirements, from low pressures of 1,000 psi to high pressures of 60,000 psi.
You may choose from a number of options to complete the test cart best suited for your application.These carts may also be equipped with air amplifiers or gas boosters for high pressure generation in leak testing, bottle filling or operation of pneumatic tools or cylinders. The optional stainless steel reservoirs are equipped with a fill/breather cap, sight gauge,and drain connection.
Hydrostatic testing
Cycle testing
Hydraulic power
Leak testing
While this unit uses water as the medium for hydrostatic testing, oil testing is also available. Maxpro offers a wide variety of pressure ranges, with some of the larger units testing high pressure hose, valves, tubing and components.
This unit consists of a portable cart with wheels, an air operated liquid pump, a precision regulator and a single channel pressure logger mounted right to the front of the cart. This allows the operator to set the pump stall point accurately as well as visually track the pressure indication system for test results.
Questions? Contact Maxpro for a customized quote based on your available air pressure, product testing requirements and required pressure volume.
---