Ultra High Pressure Valves for Isostatic Presses
Product Announcement from MAXPRO Technologies, Inc.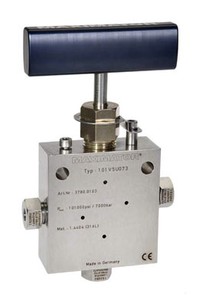 Temperature Ranges:
Standard valves are supplied with Teflon/Carbon packing and may be operated to 450°F.
Maxpro Technologies offers a complete line of Maximator® High Pressure Valves, Fittings and Tubing, Liquid Pumps, Air Amplifiers and Gas Boosters. In addition, MAXPRO offers a wide range of standard and custom designed packaged power turnkey solutions for a wide variety of liquid, air and gas applications.
Consult MAXPRO for higher temperature packing ratings.
---