JENCOLOR Sensor Signal Amplifier MTI
Product Announcement from ams Sensors Germany GmbH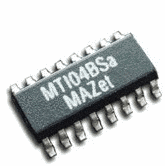 JENCOLOR - Products are made to help you evaluate light in areas in which human eyes cannot perceive with enough accuracy. MAZeT JENCOLOR products aim to register changes in light or light color more precisely and quickly than the eye can. JENCOLOR means standard products and job specific solutions for high quality and above all for customer satisfaction.
Multi-channel transimpedance amplifier (TIA) With the MTI series, MAZeT provides a family of multi-channel amplifier ICs (current-to-voltage conversion transimpedance amplifiers) for sensors with current output. These are distinguished, among other things, by a programmable bandwidth and high amplification. The ICs are offered in different RoHS compliant housings or - within the scope of customer projects - are also available as 'naked' chips (die) for Chip-On-Board (COB) assembly. The MTI series is currently available in two types, which differ in amplification, noise, bandwidth and operating voltage.
Use and Typical Applications: The sensor ICs are particularly suited as amplifiers for sensors with current output in the nA and µA range, such as opto arrays and rows in the UV, VIS, NIR and IR spectra.
MAZeT GmbH is a leading provider of Electronic Design and Manufacturing Services. We are specialized in the development of customer- and application-specific integrated circuits and embedded systems, while utilizing modern technologies. LED light regulation, color measurement or metrology tasks are application examples for our JENCOLOR spectral- & color sensor solutions.
Our target markets are the medical engineering, automation engineering and industrial metrology.
Flexibility and innovative strength in responding to our customers' needs, along with a defined commitment to quality, delivery reliability, service, and partner transparency have provided the platform for continuously and successfully developing business since the year of our foundation 1992.
"The satisfaction of our customers and mutual economic success of all partners are the main goals of our business."
MAZeT offers products for specific applications in the field of measurement, control and automation engineering - like customized ICS, sensors and components. Our products comply with known standards and are available as OEM units for customer system integration. MAZeT products are known for high quality manufacturing standards.
Our system. Your success.
Together with our partners we meet technical, quality and delivery time requirements. Satisfied and successful customers are our best reference and the basis for long-term business relations.
Contact Us : have questions about our products and services?
"The satisfaction of our customers and mutual economic success of all partners are the main goals of our business."
---