MAX-200 TVS Power Diode Sails Forward
Featured Product from MDE Semiconductor, Inc.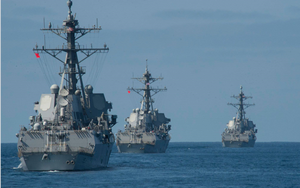 he US Navy is gearing up for a major re-design of their large surface combatant vehicles, and we'll be along for the ride! A recent study assessed the capabilities of our current Navy fleet against contemporary adversaries, and its revelations will have a significant impact on the future of the US Navy. Now, the most recent budget reveal from the Navy shows that they've committed to starting the overhaul in 2021. We've been following the evolution of the Navy's fleet makeover since 2011, when our own MAX-200 TVS power diode was integrated as surge protection for the Navy's new shipboard data networks. Here's an update on the next phase of development for the Navy's surface defense.
A Quick Recap on MDE Semiconductor, Inc.'s TVS Power Diode in the Shipboard GEDMS
Back in 2011, Boeing tested out a redesign of shipboard networks that would replace miles of point-to-point cabling, signal converters, junction boxes, and switchboards that make up a conventional ship's cabling. The new network is called the Gigabit Ethernet Data Multiplex System (GEDMS).
To protect the network backbone from power surges, Boeing chose the MAXPAK™ Series MAX-200 High Current Power TVS Diode. After passing rigorous testing, the MAX-200 was installed within the GEDM System.
The first destroyer to include the new Boeing-designed GEDMS shipboard network was the USS Spruance (DDG 111). The USS Spruance was one of the Navy's newest Arleigh Burke-class destroyers, and it was commissioned in 2017.
Why the Shift for the 2021 Redesign?
In February this year, a 118-page report was released from the Center of Strategic and Budgetary Assessments. The report details their findings that "The U.S. Navy's surface fleet is completely misaligned to meet the threats the military says it must counter in the 21st Century."
The current Navy surface fleet is heavy on destroyers with their strengths centered around heavy-duty air defense radars and densely packed multi-mission warships built around vertical launch systems. Unfortunately, those characteristics will no longer serve the future needs of defense, as the arms race with adversaries continues. What were once strengths are now leaving us vulnerable to enemies who have adapted to our defense systems.
"The service must dramatically increase its focus on bolstering the offensive punch of its surface combatants as well as fully embrace advances in electronic warfare and laser weapons to combat the anti-ship missile threat," according to highlights from Defense News. "Furthermore, the fleet must find ways to take advantage of more passive sensors and reduce its reliance on giant radars that have been at the core of its air defense missions since the Cold War."
That's why the Navy is ready to sink their budget into research, design and testing the next generation of surface combatants, starting with a large surface combatant.
According to the budget reports released earlier this year, "The goal for the large surface combatant, at least initially, will be to use the systems designed for the Flight III Arleigh Burke-class destroyer — the air and missile defense radar, Aegis Baseline 10 — and install them on a new hull that will maximize the margin the Navy has to modernize the hull as technology advances."
Which brings us back to MDE Semiconductor, Inc.'s involvement in all of this. Those systems designed for the Arleigh Burke-class destroyers include the GEDM System installed with our MAX-200 TVS power diode.
The GEDMS network transfers inputs and outputs for the Burke-class destroyers' machinery control systems, damage control system, steering control system, Aegis combat system, navigation displays, and interior communications alarms and indicators.
The MDE SemiconductorMAX-200 High Current Power TVS Diode protects the redesigned shipboard network system from dangerous power surges.
"Build a little, test a little, learn a lot."
The plan to commit 5 years of research, design, and testing is an exciting one for defense engineers.
"It's an approach that the Navy did not take with the Zumwalt-class destroyer, which had so many new technologies that the price ballooned and the Advanced Gun System failed to pan out."
McGrath said. "It sort of harkens back to the glory days of Aegis: Build a little, test a little, learn a lot."
The Aegis cruisers were designed in a way that took the hull from the Spruance-class destroyer and modified it for the new systems. Rather than completely re-inventing the wheel, the approach was to start with the hull that had already proven successful and adapt it to work with the Aegis system and its AN/SPY-1 radar equipment. From there, the new Arleigh Burke-class destroyers were designed to suit the system. Overall, this brings down the usual risk in redesigns.
And so, in a similar fashion, the new redesign for the next gen large surface combatant will start with familiar combat systems that Navy shipbuilders and engineers have already worked with, as in the DDG Flight III. However, the new hull redesign will be completely modernized from there.
What Innovations Can We Expect?
"Initial LSCs will leverage DDG 51 Flight III combat systems as well as increased flexibility/adaptability features including expanded space, weight, power & cooling … to allow for more rapid and affordable upgrades in capabilities over the ships' service life and allow for fielding of future high demand electric weapons and sensor systems and computing resources."
"The big innovation in the hull seems to be the abundance of electrical power the Navy plans to put in it to run future electronic warfare, electronic attack and directed-energy weapons the fleet anticipates incorporating in the future," says Bryan McGrath. McGrath is a retired destroyer captain and consultant with the Ferrybridge Group. "And investments in things such as land-based testing seem like a good step," McGrath added.
The Importance of On-Board Surge Protection in Navy Vessels
It is critical to naval operations to protect circuits, electronics, and data from power surges caused by lightning or otherwise.
There are, of course, many lightning protection systems in place on modern naval vessels. These systems don't reduce lightning strikes, but they protect sensitive electronics from damage.
It's also worth mentioning that in addition to lightning strikes, there are other causes of power surges that can severely damage electrical components on board ships. Switching operations, power anomalies, short circuits, or a blown fuse. Even lightning that strikes anywhere within a kilometer from the power and signal systems of a naval craft can induce large enough transients that can permanently or temporarily damage the electrical and electronic systems of the craft.
All electronics are susceptible to damage from voltage transients, power spikes, and PSQ problems. Any of these can damage electronics, ranging from minor malfunction to total devastation of the circuit.
"Robust communications are critical to the US Navy's superiority over our adversaries. Much of our communication these days is through digital paths, and we are careful to employ rigorous safeguards and redundancies to protect our networks from both man-made and natural disturbances."
This is why surge protection is a critical component to designing the new electronics systems on board the Naval vessels.
MDE Semiconductor, Inc. manufactures and supplies TVS power diodes for on-board surge protection in naval vessels, aeronautics, and telecommunications.
Budgetary Plans
The budget documents released earlier this year spell out exactly which entities will be involved in the 5-year redesign phase.
The Naval Surface Warfare Center in Philadelphia will be involved with hull, mechanical and electrical systems engineering ($2.1 million).
The Naval Surface Warfare Center Carderock in Maryland will be involved in some of the hull design as well ($6.2 million).
The Naval Surface Wareface Center Dahlgren Division will focus on engineering combat systems ($1.85 million).
And, according to Defense News, "Another $16.15 million is going toward an unspecified 'Ship Design Engineering Contract,' which the documents say will be divided among various entities, and $9.5 million is for 'shipboard systems development' for various government entities."
MDE Semiconductor, Inc.
MDE Semiconductor, Inc. is an innovative, quality-oriented device manufacturer with a Single Minded Focus on Circuit Protection Products. Our TVS power diodes are designed specifically for the protection of electronic systems from the destructive effects of Lightning, Electrostatic Discharge (ESD), Nuclear Electromagnetic Pulse (NEMP), and Inductive Switching. All silicon devices are constructed with our famous low leakage glass passivation process with high-energy absorption capability from 400 watts up to 288,000 watts. Browse our products here (www.mdesemiconductor.com) or contact us with your own unique circuit design questions.
Related Articles:
MDE Semiconductor, Inc. manufactures and supplies TVS power diodes for on-board surge protection in naval vessels, aeronautics, and telecommunications.