3D Scan Heads - Fast/Accurate 3-Axis Beam Movement
Featured Product from MECCO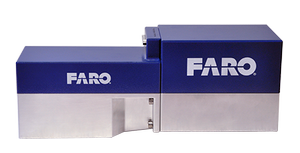 Precise Laser Control for High-speed Environments
FARO Photonics offers 3D laser beam steering components and controllers for OEMs and systems integrators. High-precision smart scan heads are matched with Ethernet-based controllers and advanced marking software to streamline communication for a complete laser system.
FARO's Ethernet-based laser marking control boards deliver true stand-alone capabilities needed for today's PC-free factory environments.

FARO's laser scan heads deliver large field sizes without the use of large scanning lenses, XY tables, or gantries. Advanced optical position detector galvanometer technology offers superior bandwidth, accuracy, and flexibility in 3-axis technology.
Designed to provide superior high-speed performance for demanding laser applications, these modules offer various wavelengths and integrates with the standard XY2-100 digital interface.
FARO's 3D-Contour Scan Head featuring advanced galvanometer technology, provides superior bandwidth, accuracy, and flexibility.
The 3D-XB 3-Axis Scan Head uses a dynamic focusing system rather than an f-theta lens to produce a flat field.
No other scan head packs as much capability into a small box! The 3D-Ultralight provides the same features as the 3D-XB plus significant mass reduction. Center of gravity optimization makes it ideal for robotic arm applications.
Click here to learn more about these complete laser system solutions, including features and benefits and applications.