Laser Processing Software - Seamless Integration
Featured Product from MECCO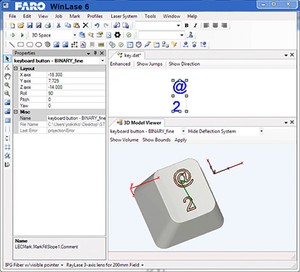 FARO's high-performance laser marking software products are made to improve productivity in high-speed automation environments. Our easy-to-use WinLase® packages integrate seamlessly with our controllers. Run multiple laser markers simultaneously with one computer for faster, more efficient output. Intuitive, easy-to-learn user interface (UI) and SDK packages available.
WinLase delivers ease of use with powerful functions. WinLase enables customization of user interfaces. Translation program allows local language support.

Powerful, true 3D capabilities for marking on contoured surfaces.

WinLase offers easy configuration of laser parameters for specific lasers. Combine with LEC controllers, WinLase offers laser marking control over Ethernet to meet high-speed customized laser marking challenges for today's smart factory environments. EtherNet/IP compatible for real-time automation.
FARO's WinLase LAN Software and LEC-1 Embedded Controller together create a powerful environment in which a single computer can control an array of smart laser marking devices.
A robust, multi-threaded, and high performance laser marking solution, WinLase Professional simplifies management of pulsed fiber lasers, which require Serial Script Text files for laser control.
Click here to learn more about these complete laser system solutions, including features and benefits and applications.