Lightwriter™ Tabletop Laser Marking Workstation
Featured Product from MECCO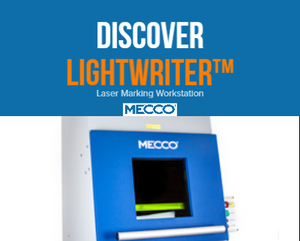 MECCO expands product offering with affordable Lightwriter™ Laser Marking Workstation. An innovative tabletop laser marking system with a streamlined design for easy, economical laser marking.
The LightWriter™ Laser Marking Workstation includes a powerful 20W Fiber Laser marking machine and Class 1 compact enclosure. This versatile system allows manufacturers of any size to engrave a wide variety of materials. Lightwriter is available for order and competitively priced at $19,900.
LightWriter is engineered with MOPA (Master Oscillator Power Amplifier) fiber laser technology. This allows users to adjust laser parameters, providing greater flexibility to mark or engrave a variety of materials, including steel, titanium, aluminum, copper, ceramics, and most plastics.